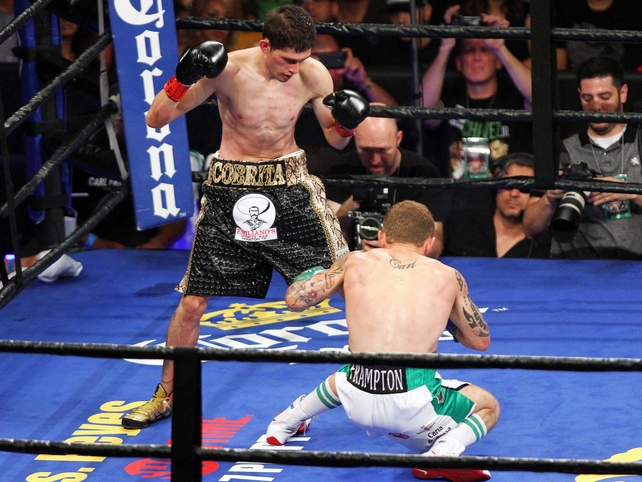 THE IBF SUPER BANTAMWEIGHT WORLD TITLE HOLDER CARL FRAMPTON (N. IREAND) CURDLED SEVERAL EMOTIONS LAST NIGHT IN EL PASO WHEN HE TURNED A LOSING BOUT INTO A CLEAR DECISIVE VICTORY OVER HIS CHALLENGER ALEJANDRO GONZALEZ.
THERE APPEARED TO NO QUESTION OF DOUBT CARL ENTERED THE RING CONVINCED HE HAD A WEIGHT PROBLEM AND AS A CONSEQUENCE HE BELIEVED HE WAS WEAK AT THE WEIGHT TO COMPETE FOR A SUPER-BANTAMWEIGHT TITLE.
His doubts on his personal strength became evident when what appeared to be a moderate left hand punch in the opening 30 seconds of the bout floored Carl. It shocked the viewers more that it appeared to shock Carl.
A heavier overhand right hand from Alejandro saw the usually strong Carl on the floor for the second time in the first round.
To those who had not seen the Mexican boxer before last night they could be forgiven for believing a lethal super-bantamweight Mike Tyson had burst on the scene.
It transpired the conviction possessed by Carl that his weight problem was bound to make him weak and susceptible to body shots surfaced and it was the force of this mind thought that caused Carl to make the two visits to the canvas.
It took one third of the contest before Carl realised he was not weak and from then on he became an obvious winner and the final unanimous verdict of the ringside judges in favour of Carl Frampton was two calculated116-108 for the Irish World champion Frampton, while the third saw it 115-109.
Of course, two points deducted for low blows from the total scored by Alejandro were significant but they played no part in the final tally by each judge.
Alejandro is a very good prospect but the question has to be raised was he ready for an on-form Carl Frampton? Ww t
The answer has to be in the negative. When Carl overcame his negative mind thought he proved to be too experienced and tough for the young Mexican fighter.
This has to seen as part of the learning curve for Alejandro. He is a first class prospect but needs more variety and experience.
There seemed little doubt the prefight news that Carl had a weight problem was the cause of Team Gonzales having a fight plan based on making the stomach area the target area.
When this became obvious it was a mistake this fight plan failed Alejandro failed to change his fight plan but instead he continued to follow a pattern that was out of symmetry and as a consequence became ineffective and made the winning easier for Carl Frampton.
Carl is managed by fomer World champion and fellow Irishman Barry McGuigan. Barry was a high class boxer/fighter with a superb variety of boxing ability and tactics. Therefore it was very surprising to watch Carl score with punches only to stay rooted and fail to move out of range from counter-punches.
If anybody is able to remove this dangerous and punishing fault then it is Barry McGuigan. ~