IT APPEARS T YSON FURY HAS BEEN DRIVEN UNDERGROUND DUE TO MENTAL ISSUES STEMMING FROM A SERIES OF EVENTS ORIGINATING SINCE INITIALLY WINNING THE WBO WORLD HEAVYWEIGHT TITLE LAST NOVEMBER.
SINCE BECOMING THE WB0 HEAVYWEIGHT TITLEHOLDER LAST YEAR TYSON FURY HAS FELT HE HAS NOT BEEN GIVEN APPROPRIATE CREDIT FOR HIS ACHIEVEMENT FOR BEATING WLADIMIR KLITSCHKO.
On this point we disagree. The BoxingAction view is it has been his self-decided madcap public behaviour that was responsible.
Beating an outstanding world heavyweight champion was a first class performance by Fury andhis success allowed World heavyweight boxing to once again be an open sesame opportunity after the Klitschko era, due to the the Klitschko brothers outstanding boxing ability made World heavyweight boxing a Klitschko closed shop.
However dark clouds
have been cast over the Tyson Fury boxing kingdom and allegations made by UKAD – United Kingdom AntiDoping Agency – plus sickening online hate mail, mentally overwhelmed Fury.
PICTURE: DAI LY MIRROR.
Fortunately, Tyson Fury has a loyal and caring family, his trainer, Uncle Peter Fury believes the worst has passed and Tyson Fury is back on even keel once again.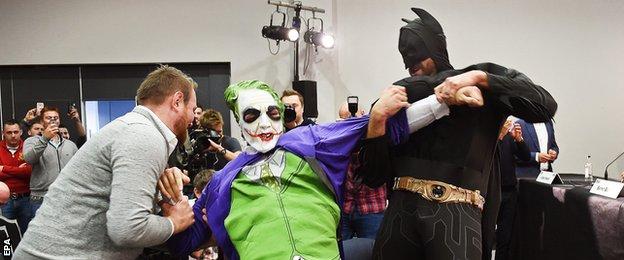 We wish him well but Tyson Fur has to respect the fact he is a World boxing champion and buffoonery is better seen watching clowns.
They are paid to make you laugh at them and their antics.
PROFESSIONAL BOXERS ARE PAID TO GAIN REPECT FOR THESELVES; THEIR SPORT THROUGH THEIR BOXING ABILITY AND DECORUM IN AND OUtSIDE A BOXIJG RING
MUHAMMAD ALI APPEARED TO OFTEN FOOL AROUND BUT HE WAS FOREMOST ALWAYS A SINGULAR CLASS ACT AND HIS SHARP INTELLIGENCE WAS NOT LACKING NOR HIDDEN.
THERE WAS ONLY ONE MUHAMMAD ALI.
They couldn't make them in twos. ~