WALEED DIN WILL NO LONGER BE CO-PROMOTED BY DENNIS HOBSON AND ASIF VALI, BUT WILL CONTINUE TO BE GUIDED BY HOSBON IN A MANAGERIAL CAPACITY.

The Sheffield flyweight was given the opportunity by Hobson and Vali to fight for the Commonwealth title in just his eighth fight, but suffered a first defeat when he was stopped by Thomas Essomba in eleven rounds.
Since then the 23-year-old has tuned to winning ways with a February victory over Bulgarian journeyman Stefan Slavchev, but will now no longer appear on the May 29 Hobson show at the Sheffield City Hall as previously scheduled.
"Waleed is a young, talented boxer," explained Vali. "We gave him the opportunity to fight for the Commonwealth belt at flyweight which his father and trainer wanted, more so than Dennis or myself. My advice was not to fight because Waleed is a natural light-flyweight and Essomba was naturally bigger and stronger. But Waleed's team said it would be fine so we went with it, but he ended up losing convincingly.
"After that loss we had to sit down and look at things, and from a business point of view Waleed couldn't expect to earn the same money. Financially, it's hard for a boxer starting out to make things work and they'll usually need sponsorship or be a good ticket seller. Dennis and myself are promoters who have to make shows work financially because we don't have TV money behind us. So unless it's financially viable then we aren't able to move forward, and we've decided by mutual consent to release Waleed from his promotional contract. Although his career will still be managed by Dennis who will obviously try to get him back fighting for titles.
"Waleed isn't a big ticket seller and we just couldn't carry on losing money, unless it was for a title fight when more tickets are sold. Normal fights, when he's building himself back up, it's just not viable. I actually wish all these people behind the scenes and on social media giving him advice would back him financially by buying a ticket and come to the shows, and help him and the promotion.
"As a promoter you can't keep taking losses by bringing opponents over, with only a few tickets being sold to offset the cost. It's not a situation I like but unfortunately it's the reality for most boxers in the UK. Promoters can't keep losing thousands of pounds every show. I still like Waleed and his dad but financially things need to stack up."
"Waleed can't expect preferential treatment, especially after a loss," reiterated manager Hobson. "If you're going to get anywhere in this sport then it's about working as a team, success is a two-way thing. There are plenty of experts out there offering advice but the reality is they wouldn't invest or risk a bean! Waleed is a talent and I do want him to do well.
From Bob Trieger

HERNANDEZ SHOCKS MAGOMEDOV
JOHN VERA STOPS JOEY RUELAS
TEENAGE SENSATION DEVIN HANEY SHINES
Pictures by Manny Murillo / RJJ Boxing Promotions
(L-R) -- Arif Magomedov & Andrew Hernandez
LAS VEGAS (May 21, 2016) - Determined Phoenix middleweight Andrew "Hurricane" Hernandez shocked heavy favorite Arif "The Pedator" Magomedov in tonight's main event on the "Knockout Night at the D" card, which aired live on CBS Sports Network from under the neon lights at the Downtown Las Vegas Events Center (DLVEC) outdoor venue.

The "Knockout Night at the D" series, presented by the D Las Vegasand DLVEC, is promoted by Roy Jones Jr. (RJJ) Boxing Promotions. Tonight's event was promoted in association with Main Events and Shamo Boxing Promotions.

Before a sold-out crowd, Hernandez (12-4-1, 4 KOs) pounded world-rated middleweight Magomedov (17-1, 10 KOs), winning a unanimous 10-round decision (100-89 twice, 98-91) for the vacant USNBC middleweight title. Hernandez hurt Magomedov in the third and seventh rounds, finally dropping the tough Russian (WBA #2, WB) #3, WBA #5 and IBF #14) in the 10th.

"This fight changes everything for me," Hernandez proclaimed. "He's very good and deserves all of the accolades he's received but I now have my head on straight and I'm focused. My jab was very important tonight. He's very strong but I wanted to fight him inside because I knew he couldn't take it from me. I was very prepared. I think I may have broken my ankle in the fourth round but I kept going. I wanted to finish him, get the knockout, but he's a very tough fighter. He has heart and showed why he has all of those accolades."

Four weeks ago, Hernandez was preparing to fight as a cruiserweight. He lost 40 pounds to make weight for this middleweight fight in what turned out to be one of the biggest upsets of the year.


(L-R) -- Arif Magomedov & Andrew Hernandez

Southpaw super welterweights John "The Phenom" Vera (14-0, 9 KOs), of Fort Worth, and Phoenix' Joey "Boxer" Ruelas (10-2-1, 4 KOs) went toe-to-toe from the opening bell and they never let up in the co-feature. Vera exploded in the round of this firestorm, battering the game Ruelas around, until referee Jay Nady halted the action in the sixth round. Vera remained undefeated and retained his NABA-USA title.

"I knew eventually he'd put his hands down and I'd catch him," Vera explained. "I thank him for the opportunity to fight. He's helluva fighter, I give him that, but I know I'm a warrior. I took some shots but gave 'em, too. I broke him down and just kept throwing those lefts."

(L-R) - John Vera & Joey Ruelas
In the TV opener, boxing prodigy Devin "The Dream" Haney (6-0, 4 KOs) made history as the 17-year-old - a junior in high school - became the youngest American professional boxer to fight on national television. The Floyd Mayweather, Sr.-trained Haney, fighting out of Las Vegas in front of his rapidly growing fan-base, showcased his vast skills against previously undefeated Mexican invader Jairo "El Leon" Vargas (Fernandez), unloading 14 unanswered punches for a 4th round technical knockout victory. Nady stopped the fight without counting when a badly hurt Vargas (4-1, 3 KOs) hit the deck hard.
"I happy that I put on a good performance for my fans," Haney commented after the fight. "My team put together the strategy to use my jab and breakdown his body. I picked up my combinations did what I was told to do."

(L-R) -- Devin Haney & Jairo Vargas
In a battle of Texas junior welterweights, Tony Lopez (11-1, 4 KOs) dropped previously unbeaten Jerren "Hardknocks" Cochran (11-1-1, 4 KOs) twice with lefts in the opening round and finished him off in the second, knocking him out cold with a punishing right.
"Two mores seconds and I would have finished him off in the first," Lopez remarked. "My corner told me that, after the lefts, come back with a right. They gave me the game plan and I executed."
In the opening bout, Las Vegas favorite Jeremy "J-Flash" Nichols (4-0, 2 KOs) dominated Puerto Rican welterweight Julio "El Indio" Santos (2-3, 1 KO) on his way to a win by unanimous 4-round decision.
"I know I could have done a little better, throwing more combinations and jab," Nichols said. "He came in trying but he couldn't fight. I sent him back to Puerto Rico with a loss."
"Knockout Night at the D" returns to the DLVEC Friday night, June 10, on CBS Sports Network. USNBC lightweight champion Demond "Body Shot" Brock (11-3-1, 4 KOs) defends his title against former USNBC 135-pound title holder Chuy "Hurrican" Gutierrez in the 10-round main event.


OFFICIAL RESULTS
(Winner listed first)

MAIN EVENT - MIDDLEWEIGHTS
Andrew Hernandez (12-4-1, 3 KOs), Phoenix, Arizona
WDEC10 (100-89, 100-89, 98-91)
Arif Magomedov (17-1, 10 KOs), Chekhov, Russia

(Hernandez won vacant USNBC middleweight title)

CO-FEATURE - SUPER WELTERWEIGHTS
John "The Phenom" Vera (14-0, 9 KOs), Champion, Fort Worth, Texas
WTKO6 (1:17)
Joey "Boxer" Ruelas (10-2-1, 4 KOs), Challenger, Phoenix, Arizona
(Vera won or retained USNBC super welterweight title)

JUNIOR FEATHERWEIGHTS
Tony Lopez (11-1, 4 KOs), Dallas, TX
WKO2 (0:22)
Jerren Cochran (11-1-1, 4 KOs), Houston, TX

LIGHTWEIGHTS
Devin Haney (6-0, 4 KOs), Las Vegas, Nevada
WTKO4 (1:34)
Jairo Fernandez (4-1, 3 KOs), Veracruz, Mexico

WELTERWEIGHTS
Jeremy Nichols (4-0, 2 KOs), Las Vegas, Nevada
WDEC4 (40-36, 40-36, 39-37)
Julio Santos (2-3, 1 KO), Ponce, Puerto Rico


"KNOCKOUT NIGHT AT THE D" SERIES WAS DEVELOPED IN PARTNERSHIP WITH DLVEC AND NEON STAR MEDIA

TITLE BOXING IS THE OFFICIAL APPAREL AND GLOVES PARTNER FOR THE "KNOCKOUT NIGHT AT THE D" SERIES

IDEA DESIGN STUDIO IS THE MAIN SPONSOR
WORLD BOXING COUNCIL
Mauricio Sulaimán, President
Cuzco No. 872, México D.F., México, 07300
Phones +52 (55) 57150309 | +52 (55) 51195276
www.wbcboxing.com


R.I.P. – WBC President Dr. José Sulaimán – 1931-2014



WBC MIDDLEWEIGHT STATUS

The WBC has received official confirmation from Golden Boy Promotions Saul "Canelo" Alvarez decision to vacate the WBC middleweight world championship.

Gennady Golovkin is hereby recognized as the undisputed WBC middleweight champion of the world.

The WBC wishes Canelo Alvarez great success in his career, and will certainly look forward to see Golovkin vs. Alvarez materialize in the future. ~
WORLD BOXING COUNCIL

Mauricio Sulaimán, President
Cuzco No. 872, México D.F., México, 07300
Phones +52 (55) 57150309 | +52 (55) 51195276
www.wbcboxing.com
R.I.P. – WBC President Dr. José Sulaimán – 1931-2014
May 13, 2016
VADA REPORTS ADVERSE SAMPLE RESULTWBC heavyweight world champion Deontay Wilder and mandatory challenger Alexander Povetkin voluntarily agreed to the WBC Clean Boxing Program and to be tested by the Voluntary Anti-Doping Association (VADA) in connection with their upcoming May 21, 2016, WBC World Heavyweight Championship.
Today, VADA reported to the WBC and the fighters' camps the results of an anti-doping test Povetkin underwent from a sample collected on April 27, 2016. VADA's report states that Povetkin's sample A showed an adverse result for the banned substance Meldonium. The WBC also received specific information from the World Anti-Doping Agency about such substance Meldonium .
The WBC's priority is and will always be safety, fair play and justice. In order to continue to strive for the absolute safety of the boxers and for a just and fair outcome for all parties involved, the WBC is conducting an in-depth investigation of this matter.
The WBC will make a public announcement in the very near future concerning the results of its investigation and any appropriate steps that it will take. ~
THE REMATCH WITH VANES MARTIROSYANIS ON SATURDAY, MAY 21
LIVE ON SHOWTIME® FROM THE COSMOPOLITAN OF LAS VEGAS
Training Camp Quotes; Photo: Edward Jackson.
FROM MARIO SERRANO

HOUSTON (May 11, 2016) - WBA Super Welterweight World Champion Erislandy "The American Dream" Lara is set to defend his world title and settle his score against Vanes "The Nightmare" Martirosyan when the two meet in the main event of a SHOWTIME CHAMPIONSHIP BOXING® tripleheader featuring the top 154-pound talent in the sport on Saturday, May 21 from The Chelsea, inside The Cosmopolitan of Las Vegas.

Live televised coverage on SHOWTIME begins at 9 p.m. ET/6 p.m. PT and features unbeaten IBF Junior Middleweight World Champion Jermall Charlo taking on former champion Austin "No Doubt" Trout and his twin brother Jermell Charlo battling top challenger John Jackson for the vacant WBC Super Welterweight World Title.

Tickets for the live event, which is promoted by Mayweather Promotions and TGB Promotions, are on-sale now. Ticket prices start at $39, and are available online at www.cosmopolitanlasvegas.com or through Ticketmaster at (800) 745-3000; www.ticketmaster.com.

Lara and Martirosyan will meet after their 2012 bout ended in a technical draw. See below for the Cuban-born champion's thoughts on training camp, the rematch and more:


On his rematch with Vanes Martirosyan:

"This is a very important fight for me. Our last fight unfortunately ended in a draw because of a clash of heads so we have some unfinished business to take care of. This time I'm not going to leave any doubt on who the better fighter is. I'm coming to dominate and retain my world championship."

On training camp:

"I'm taking this fight very seriously. I've been pushing my body to get in the best shape possible. My body feels incredible and I couldn't ask for a better training camp. I've been sparring a lot and my timing is getting better with each session. Everything is going as planned."

On the May 21 card:

"It's great to be fighting on this card, especially when there is so much on the line while I defend my title. In addition, the Charlo brothers are fighting on the undercard, which makes for a great night of boxing for the super welterweight division. The landscape of the 154-pound division will be laid out after May 21."

On the state of the super welterweight division:

"Honestly I believe the 154-pound division is one of the strongest in all of boxing. I feel I'm leading the pack and my goal is to unify all the belts. I'm going to take it one fight at a time with the mindset to clean out the division."

On fighting in Las Vegas: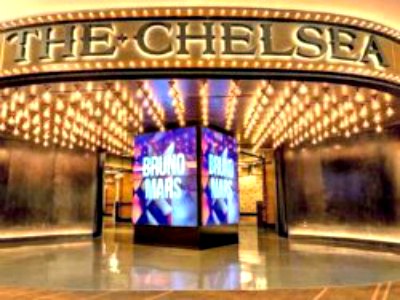 "Vegas is the boxing capital of the world and fighting there is unbelievable. The fans are very supportive. The Chelsea at The Cosmopolitan is very intimate and every seat in the building is a good seat. I anticipate a lively crowd."

On his relationship with Ronnie Shields:

"Ronnie is a great coach and his game plans are very well thought out. He keeps everything simple. If we have to make adjustments during the fight, he'll be able to point them out. We both have a great mutual respect for one another."