WORLD BOXING COUNCIL

Mauricio Sulaimán, President
Cuzco No. 872, México D.F., México, 07300
Phones +52 (55) 57150309 | +52 (55) 51195276
www.wbcboxing.com
R.I.P. – WBC President Dr. José Sulaimán – 1931-2014
April 4, 2016
WBC PRESIDENT'S WEEKLY REPORT
March 28 – April 3, 2016
Monday, March 28
Flight from Mexico to Hong Kong.
Tuesday, March 29
FLIGHT FROM HONG KONG TO MANILA.
Meeting with Bebot and Johnny Elorde.
Meeting with Eric Buhain, (above left), a member of the Philippines Board.
Annual awards ceremony – "Gabriel Flash Elorde" (above right).
Wednesday, March 30
Flight from Manila to Bacolod.
Arrival in Bacolod for Oriental and Pacific Boxing Federation (OPBF) convention (above left).
Mauricio Sulaiman presented with the recognition of adopted son of the city, and presented with the keys to the city of Bacolod (above right).
Opening of OPBF convention.
OPBF Convention activities, including meetings with several people of the boxing community.
Thursday, March 31
Ring officials and supervisors seminar at the OPBF convention by Hubert Minn and Bruce McTavish.
Meeting with Chinese promoter Liu Gang.
Meeting with Major Lee from Korea.
Several meetings with members of the boxing community.
Meeting with Philippine promoter Aldaguer.
Friday, April 1
Meeting with Hubert Minn, addressing several aspects of the Ring Officials Committee.
Medical seminar at the OPBF convention by Dr. Paul Wallace.
Meeting with Dr.
Paul Wallace, addressing several aspects of the WBC medical committee.
Meeting with promoter, Joe Jaro.
Boxing card with three OPBF titles on the line.
Saturday, April 2
Flight from Bacolod to Manila to Bangkok.
Visit to the Muay Thai show in Asiatique.
Meeting with Asian Boxing Council President Kovid Bhakdibhumi (second from left), ABCO Secretary General Patrick Cusick(third from left), and Kiate.
Sunday, April 3
Meeting with Patrick Cusick addressing WBC Muay Thai and ABCO aspects.
Meeting with Liu Tao, from the Chinese Boxing Federation.
Meeting with Chisa Yamane, addressing several aspects of boxing in Asia.
Meeting with Thai boxing community members, with the presence of 15 former world champions of Thailand.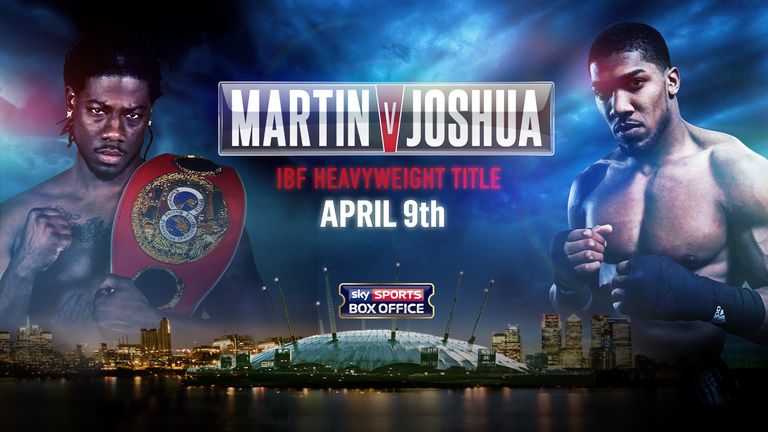 ON SUNDAY NIGHT IBF WORLD HEAVYWEIGHT CHAMPION 'PRINCE' CHARLES MARTIN COMES FACE-TO-FACE WITH UNDEFEATED CHALLENGER ANTHONY JOSHUA IN A TENSE 'THE GLOVES ARE OFF' EPISODE.
The pair met with Johnny Nelson at Sky Sports studios to discuss the big fight and also their tough journey to get to this point.
CHARLES MARTIN: "We grew up hard. Hard and hungry, no food no Daddy.
"My uncle was the one who handled the man part of my life. I still saw a lot of stuff even as a kid. I had to fight every day, we had a tussle every day, somebody wanted to try us every day.
"I've got a lot of pent up anger inside of me, it's just life. There's a lot of things I don't like expressing, it just stays within.
"That emotion comes out when I'm in the ring
ANTHONY JOSHUA said: "I've wisened up, I've been through my own fair share. If its hell fire, or clouds on paradise – so be it. I've already made the decision of where I want to get to. It's about self-development for me because that's what I got into Boxing for. I needed some sort of discipline.
"I was looking at my own court case at the time, looking at double figures and I happened to end up in a boxing gym.
"I got found not guilty, carried on with my Boxing and this is where it's lead me now.'
CHARLES MARTIN: "I'm the champ, I'm gonna keep on being the champ. So I'm gonna knock him out, period. I don't need to call no rounds, when I see it I'm going to do it. I'm going to get right over you, I'm going to step right over you. I walk this earth like a God, and that's who I am.'
ANTHONY JOSHUA: "Do I shatter his dreams? I think he knows what's coming anyway. He walks this earth like a God. I'm blessed, my destiny is written."
MARTIN v JOSHUA 'THE GLOVES ARE OFF'
SUNDAY SUNDAY 7.30 PM SKY SPORTS 1
APRIL 9TH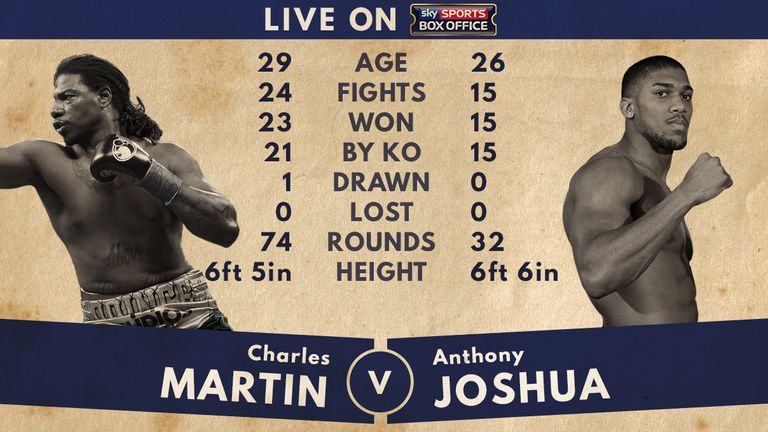 WILDER V POVETKIN WORLD HEAVYWEIGHT CHAMPIONSHIP EXCLUSIVELY LIVE ON BOXNATION
More big live world title action on The Channel Of Champions in April with Troyanovsky v Cuenca and Glowacki v Cunningham
BoxNation will broadcast exclusively live in the UK Deontay Wilder's WBC World Heavyweight title defence against Alexander Povetkin from Moscow, Russia, on Saturday 21st May.
The undefeated American superstar puts his title on the line for the fourth time against the Russian mandatory challenger and former WBA World Champion at the Khodynka Ice Palace.
In a real life re-enactment of the iconic Rocky IV movie that saw Rocky Balboa head to Russia and face the indestructible Ivan Drago, Wilder must enter hostile territory after Povetkin's promoters won the purse bid to stage the fight on home soil.
The dynamite-punching and brash Wilder, 30, has lit up the heavyweight division with his explosive performances that have seen him stop all but one of his 36 opponents with a staggering 28 coming inside three rounds.
Since winning the WBC crown from Berman Stiverne in January last year, the 'Bronze Bomber' has made title defences against Eric Molina, Johann Dhaupas and Artur Szpilka and won all by stoppage, but now faces the most difficult challenge of his career.
Povetkin, 36, a former world class amateur winning Gold at the 2004 Athens Olympics and 2003 World Championships, won the WBA World title in 2001 by defeating Ruslan Chagaev in 2011 and made title defences against Cedric Boswell, Marco Huck, Hasim Rahman and Andrzej Wawrzyk - winning three out of four by stoppage.
A unification showdown against then division king Wladimir Klitschko, the IBF, WBO, WBA Super World Champion followed in October 2013 and despite being floored four times in the fight, Povetkin took Klitschko the full distance only to lose on the judges' scorecards, which remains his sole career defeat. Since then he's knocked-out his last four opponents to earn his world title shot.
Chief-support on the card sees two-time WBA World Cruiserweight Champion Dennis Lebedev in a unification battle against IBF World Champion Victor Emilio Ramirez.
Further big live world title action coming up on the Channel of Champions in April sees Eduard Troyanovskyand Cesar Rene Cuenca clash in a highly anticipated rematch on Friday 8th April from the Krylia Sovetov in Moscow, Russia.
Russian Troyanovsky beat Argentinean Cuenca last November, halting him in six rounds with many feeling that the fight was stopped too early and now they collide again with the IBF and IBO World Super-Lightweight titles on the line.
On Saturday 16th April live coverage comes from The Barclays Centre, New York, when WBO World Cruiserweight Champion Krzysztof Glowacki makes the opening defence of his title against former two-time IBF World Champion Steve Cunningham.
Glowacki won the title in a thriller in his last fight against Marco Huck last August when he stopped the German based Serbian in the eleventh round, live on BoxNation.
Huck dropped Pole Glowacki in the sixth round and was ahead on the scorecards before Glowacki found a big punch to floor Huck in the eleventh, it could have been stopped by the referee, but he was given a chance to continue and Glowacki steamed in to get the stoppage.
Also on the card fast rising star and 2012 U.S Olympian Errol Spence aims to become the first fighter to stop former world champion Chris Algieri in a 10-round welterweight showdown. ~

Once Upon A Time In The West – Championship Boxing

Action Indoor Sports, Saturday April 16th

Sanigar Events presents 'Once Upon a Time in the West' Championship Boxing at Action Indoor Sports, Bristol. Unbeaten light heavyweight prospect Hasan Karkardi originally from Iran now based out of Bristol will challenge Newcastle's Scott Westgarth for the International Light Heavyweight Challenge Belt. Westgarth is no stranger to Bristol boxers having stopped his last two Bristol foes Lee Nutland and Krystian Nadolski. Karkardi who is unbeaten in 6 contests will want to avenge his stablemates with a statement win and snatch the first title of his professional career.
Two time English title challenger and Midlands Area Champion Ash Lane is keen to rebuild and get himself back into title contention following a narrow points loss to Jason Cunningham for the English title last month. Hometown favourite Dan Sarkozi will also feature in a 4 round contest against Paul O'Brien of Hull. Sarkozi is unbeaten in his last two contests and will no doubt bring a great following to his first contest at the Whitchurch Centre.
The unbeaten trio of former Empire ABC team mates David Bailey, Duane Winters and Tim Cutler will all want to but on a special show for the home crowd. Light heavyweight David Bailey nicknamed 'The Bomber' brings an all action crowd pleasing style, 'The Gas Man' Duane Winters who has a clean sweep of wins in 3 contests brings huge support from his local Knowle West and Tim Cutler has shown true grit in securing the first two wins of his career.
Liam 'Raging Bull' Hunt from Weston Super Mare believes he is ready for a big year after training and sparring alongside Southern Area Champion Tamuka Mucha. Hunt is keen to start off 2016 with a knock out win at Whitchurch. 'The Somerset Stallion' Ryan Wheeler from Frome continues to build his status in the super featherweight division after three dominating performances in 2015. Wheeler has been working closely with IBF World Champion Lee Haskins as he prepares for the first defence of his world title.
Cheddar's Henry Smith returns to the ring moving down a weight division from Heavyweight to Cruiserweight following a long spell in the gym. Making his debut on the card will be super bantamweight Jack Budge from Lamborn, Berkshire who was the ABA Three Nations Youth champion. Budge is Sanigar Events latest signing and is in a great position to learn from the likes of Ashley Lane, Andrew Selby and Lee Haskins.
Promoter Chris Sanigar added: "I am very pleased to be returning to the Whitchurch after such a historical night there last June when Lee Haskins won the interim world title. Boxing in that same venue will no doubt bring a boost to the younger boxers coming through and it is exciting to give the lads a chance to showcase themselves on a home show."
*** Tickets priced at £30 Unreserved seating, £40 Ringside and £50 & £60 VIP Tables including food are available from Sanigar Events on 0117 949 6699 ***
Under 16's accompanied by adult tickets are £10.
WORLD BOXING COUNCIL

Mauricio Sulaimán, President
Cuzco No. 872, México D.F., México, 07300
Phones +52 (55) 57150309 | +52 (55) 51195276
www.wbcboxing.com
R.I.P. – WBC President Dr. José Sulaimán – 1931-2014
March 7, 2016
WBC PRESIDENT'S WEEKLY REPORT
FEBRUARY 28 – MARCH 6, 2016
Sunday, February 28
Visit with WBC Treasurer Juan Sanchez.
Monday, February 29
Interview with BBC, addressing AIBA pro boxers fighting at the Olympics; interview with Sky News.
Interview with Dan Glynn for Roberto Duran documentary.
Interviews with The Times and The Daily Mail.
Meeting with David Walker and Scott Welch, addressing WBC Cares in U.K.
Canelo-Khan press conference in London (above left); flight from London to New York (above right).
Dinner meeting in New York with Don Majeski and Jill Diamond.
Tuesday, March 1
Meeting with Robert Gasparri of Golden Boy Promotions.
Press conference – Canelo-Khan at The Hard Rock in New York.
Flight from New York to Los Angeles.
Wednesday, March 2
Meeting with Sebastian Heilland at the WBC Los Angeles office.
Meeting with Pepe Sulaiman and Nancy Rodriguez at the WBC Los Angeles office.
Meeting at the MGM addressing WBC Challenger reality show.
Press conference – Canelo-Khan at Universal City, Los Angeles.
Dinner meeting with Bill Caplan.
Thursday, March 3
Meeting to check the proposal of medical concierge, "Vie Cache."
Various meetings at the WBC office in Los Angeles.
Flight from Los Angeles to Mexico City.
Friday, March 4
Various meetings at WBC office in Mexico City.
Saturday, March 5
Flight from Mexico City to Veracruz.
Sunday, March 6
Flight from Orizaba to Mexico City.
Weekend fights:
Wanheng Menayothin (above left) defended the WBC minimumweight championship by defeating Go Odaira of Japan by TKO in the fifth round.
Shinsuke Yamanaka (above right) retained the WBC bantamweight title by defeating Liborio Solis of Venezuela by 12-round unanimous decision.
Ganigan Lopez of Mexico became the new WBC light flyweight world champion defeating Yu Kimura by 12-round majority decision.
Oscar Escandon of Colombia (above left) won the WBC interim featherweight title by defeating Robinson Castellanos of Mexico by knockout. Oscar is now waiting to fight the winner of Gary Russell Jr. vs. Patrick Hyland.
WBC female flyweight world champion Yessica "Kika" Chavez (above right) retained the title by defeating Vanessa Taborda of Argentina by unanimous decision.